ISRAEL FOLAU IS set to make his return to professional rugby union this weekend after being named to start for the Shining Arcs on the opening weekend of the new Japan Rugby League One season
It has been more than 1000 since Israel Folau has played his last professional match rugby union Ex Wallaby will make his return on Saturday in the opening round of Japan's new competition, League One.
Due to Folau's homophobic social media post, Rugby Australia terminated his contract and he ended up playing for French Rugby league club Catalans Dragons
The player subsequently launched legal proceedings against the union and a settlement was reached in December 2019.
In November World Rugby allowed players to switch nations to country of birth thus gives Israel Folau opportunity to return International rugby as well
Tonga head coach Toutai Kefu has revealed he has contacted Folau to represent Tonga
"We'd definitely be interested," Kefu said. "We're not in a position to bypass players of Israel's calibre. We'd welcome him with open arms.
"I've had conversations with him already in the last six months. I actually caught up with him just before he left to go to Japan. I explained to him where we were at in terms of what's happening with this revisiting of this new eligibility rule. He totally understands it. I said, 'If they overturned this straight away, you could be available for us next year'.
"He said, 'Yeah, I'm keen to go'."
Tonga have not yet qualified for the World Cup but are in line to face Ireland in the pool stages if they do, as is expected.
Folau's return to the international stage would cap a remarkable comeback given his high-profile sacking and fight to continue playing top-flight rugby.
Folau has been named to start at full-back where he shone for the Wallabies over the course of his 73 Test caps. Shining Arcs as they will face play against Kobe Steelers.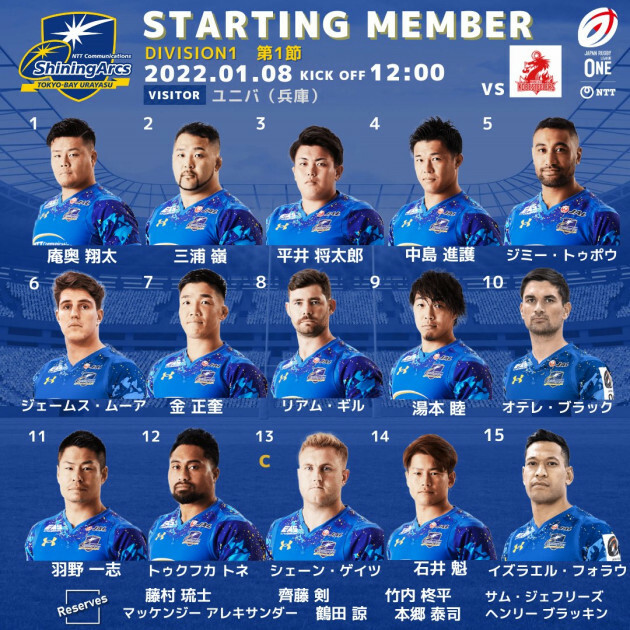 Shining Arcs: Israel Folau, Kai Ishii, Shane Gates (c), Tone Tukufuka, Kazushi Hano, Otere Black, Atsushi Yumoto, Liam Gill, Shokei Kin, James Moore, Jimmy Tupou, Shingo Nakajima, Shotaro Hirai, Miura Rin, Anoku Shota. Reserves: Ryushi Fujimura, Ken Saito, Shuhei Takeuchi, Sam Jeffries, Alex MacKenzie, Ryo Tsuruda, Taji Hongo, Brackin Henry.